Apesar de os colaboradores do suporte de clientes terem que responder a uma grande variedade de pedidos – com sorte, eles não precisam reinventar a roda para perguntas comuns, pedidos de suporte, ou problemas. Ao invés disso, eles podem usar templates prontos para diminuir o tempo de resposta e oferecer uma experiência de serviço ao cliente consistente. Na verdade, respostas enlatadas, respostas pré-definidas, e templates são um dos recursos mais importantes de qualquer support software de suporte de tickets. Eles dão aos colaboradores mais tempo e menos estresse, ajudam o fluxo de trabalho e a acelerar o suporte ao cliente. Resumindo, mensagens enlatadas e templates podem:
Ajudar os colaboradores a dar respostas apropriadas e precisas de forma rápida;
Economizar tempo e esforço para sua equipe de suporte;
Aumentar a confiança, a eficiência e a produtividade dos colaboradores;
Reduzir o tempo de treinamento dos colaboradores;
Garantir o padrão de respostas da marca nas comunicações com clientes;
Melhorar a qualidade do serviço e aumentar a satisfação dos clientes.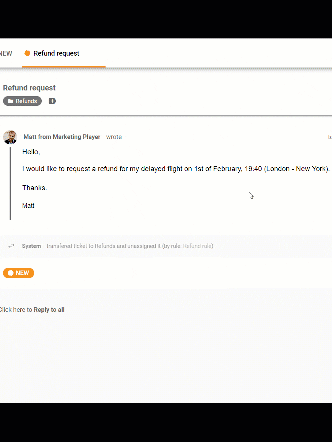 Melhores formas de usar respostas enlatadas e templates para o seu sistema de suporte de tickets
Envolva a sua organização inteira no processo de criação e avaliação de templates para conseguir um feedback construtivo de vários profissionais em departamentos diferentes.
Garanta que cada template para resposta seja revisado cuidadosamente antes de ser usado, e que não apresente nenhum erro de digitação ou gramática.
Não use linguagem robótica e extremamente formal – encontre o estilo e tom de voz certo para o seu público.
Tente testar vários templates para respostas para achar as mais apropriadas para a sua organização.
38% dos consumidores acham que respostas impessoais e que seguem scripts são frustrantes – personalize os templates sempre que possível e ajuste as respostas para cada cliente e caso específicos.
Não use respostas enlatadas e templates apenas pela velocidade do suporte – mande a mensagem apenas se for 100% relevante e corresponda ao pedido do cliente.
Revise as suas mensagens enlatadas e templates regularmente para garantir que eles continuem sendo relevantes e acompanhem o crescimento da sua organização e as mudanças de necessidades dos seus clientes.
12 exemplos de templates para respostas de tickets
Com um conjunto de mensagens prontas, você pode conseguir uma abordagem personalizada enquanto reduz a responsabilidade de criar cada resposta do zero. Criar uma biblioteca de respostas enlatadas e templates eficientes, no entanto, demanda tempo e esforço. Aqui estão alguns templates para tickets de suporte baseados em 12 cenários comuns. Use-os como ponto de partida e adapte-os para os seus clientes.
Afirmar que um ticket foi recebido
Atualizar o progresso de um ticket #1 (estamos trabalhando no seu caso)
Atualizar o progresso de um ticket #2 (não esquecemos de você)
Pedir mais informações para um cliente
Informar o cliente que o problema foi resolvido
Fechamento de ticket
Fechamento de ticket por causa de falta de resposta
Admitir um erro na resolução de problemas
Desculpar-se por um problema geral da empresa
Responder um relatório de bug
Fazer follow up
Fazer follow up de serviço
Ready to put your ticketing templates to use?
LiveAgent is the most reviewed and #1 rated ticketing software for small to medium-sized businesses. Try it today with our free 14-day trial. No credit card required.
Free Trial
Voltar aos Modelos